Academy 4
Academy 4 takes place one Friday afternoon a month during the school year. All fourth-grade students, mentors, and volunteers gather on the school campus during, on the same afternoon, for a fun-filled time of leadership training and relationship building. We need 125 mentors and substitutes to make this 9-month commitment for the 2023-2024 school year. All it takes is 90 minutes, once a month. Mentors will be provided the day of, onsite training, easy to follow curriculum and fun activities to do with your 4th grader.
More Info
Children's Closet
The Children's Closet came together in response to specific requests by Fort Worth ISD counselors, who identified children in need of school uniforms at the beginning and throughout the school year. The Children's Closet, a ministry of UCC, has answered this call by committing to provide part of the uniforms to every student for each of the elementary schools in FWISD including the four elementary leadership academies.
More Info
Christmas Angels
Christmas Angels is a long-standing UCC outreach ministry made possible by faithful giving year after year. Through donations provided by our UCC family, we are able to provide hundreds of children a gift that builds confidence and encourages education and play. Monetary donations of all amounts make an impact and are appreciated. A $100 donation provides a gift bag that gives each child a new coat, sweatshirt, jeans, shoes, underwear, outdoor toy, a book and Bible.
More Info
Creation Care
The Caring for God's Creation Ministry (CFGC) has been prayerfully leading University Christian Church in its stewardship of God's good earth for over 15 years. Replacing the Styrofoam cups used in the church building was one of Caring for God's Creation's early projects. The cups, sporting the ministry's logo, are now used at all coffee fellowships and a team of CFGC folks has committed to washing them every Sunday morning after they are used.
More Info
Fortress Birthday Parties
The third Thursday of every month: August 24, September 14, October 12, November 9, December 7| 3:50pm-5:30pm
Fortress Youth Development Center
1007 E Terrell Ave.
Fort Worth, TX 76104
Do you love throwing parties and encouraging fun? Then this is a service opportunity for you! Help us throw a monthly birthday party for the kids at Fortress Youth Development Center. The task is simple: show up with a smile, pass out cupcakes, sing fun songs, and remind every kid just how special they are.
Volunteer!
Gifts of Hope
University Christian Church helps you celebrate the season by offering truly unique gifts through our alternative giving market, Gifts of Hope. Honor your loved ones by giving the gift that transforms lives. This year's virtual Gifts of Hope Market will go live on Wednesday, November 22. Our in person Market is Sunday, December 3 on the first floor.
More Info
Mission Pilgrimage
Are you interesting in planning and/or participating in UCC's next Mission Pilgrimage?
Stay tuned for more info-meetings to discuss potential upcoming service opportunities.

Their language is intentional—a mission pilgrimage rather than a mission trip. It's not about us and what they're doing, but about what God is going to do through them and those they meet. They hope to stretch out their hands in a ministry of presence and walk the risky path of pilgrimage to holy ground.
Page Scholarship
Thanks to the generosity of Mary Louise Page and several of our current members, Gerry & Don Houk and Virginia and Alex Cothran, University Christian Church is able to offer the possibility of a partial scholarship. This scholarship helps young adults defray some of the cost of a college education that they may not have been able to afford.
Learn More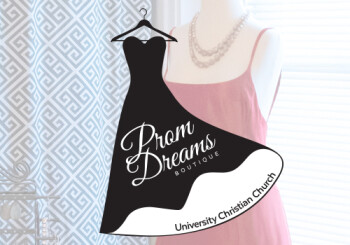 Prom Dreams Boutique
Prom Dreams is open every Thursday (5:00pm – 7:00pm) from September 14-28

We have rooms and closets filled with items for students to come "shop" free of charge for their prom dance or special formal event.
There are no requirements for using this ministry. Students do not need to have any church affiliation; this is simply a ministry providing dresses, shoes, purses and jewelry to those who need them.
Volunteer Here
Room in the Inn
For 10 years, University Christian Church has responded to the very real need of homeless persons for inclusion and affirmation. Twenty-two nights a year, ten different guests spend the night and enjoy dinner and breakfast. UCC volunteers not only give but also receive inspiration, compassion, and fellowship. Room in the Inn is about ordinary people loving their neighbors in extraordinary ways—welcoming and accepting people exactly as they are is the greatest gift any of us can give. To sign up to serve, contact Carol Stewart.
More Info
True Worth Sack Lunch Ministry
Make and deliver sandwiches and sack lunches!
September 21 & 22, October 19 & 20, November 30 & December 1, January 18 & 19, February 22 & 23, March 28 & 29, April 25 & 26, May 23 & 24 | 3:00pm on Thursdays and 9:00am on Fridays | Room 207
Make and deliver sandwiches and sack lunches for True Worth Place* on the 4th Friday of every month. Sign up online to serve.
*True Worth Place is a comprehensive resource center and day shelter in Fort Worth providing guests who are currently experiencing homelessness with access to help, hope and respect.

Thank you, for answering the call to give and serve! Contact [email protected] for more information on helping with this ministry.
Sign-Up Here!